Screenshot application
You can press the Print screen on keyboard to get screen image and then open Paint to save it. But if you want use less action to save a series of screen image, you can use application below.
Summary introduction
You need setting folder to save image, file name and type of image.
You can choose naming mode of file name.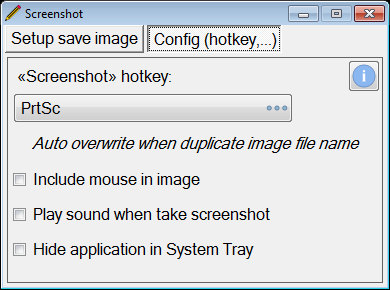 Then you just press the hotkey and automatically get screen image file.
Note: In Define hotkey dialog, move mouse cursor on button with keyboard icon to get detail.
Download and install
Attention: Before using, you must check that your computer has Microsoft .NET Framework Runtime version 3.5 or higher. If your computer doesn't have one, you can use the link below:
This is a portable application, means you just need to run the EXE file and use immediately. Here is the download link: Screenshot application.